Plenty of space, good food and superior customer service probably come to mind when you're searching for "corporate event venues near me". While these seem like the most obvious venue requirements on your list of "must-haves", a few more considerations should also top your list.
Here are three more important traits to consider when looking for top corporate event venues in NJ.
1. Venue Sets High Standards for Itself
Setting, maintaining and exceeding high standards is a hallmark of leading venues. Whether that's by providing exceptional service, versatile culinary offerings or high-tech event space, quality standards elevate the event experience to a level that only the best-in-class venues can reach.
Want an easy way to gauge a venue's standards? Look at their AV set up.
In today's world, technology plays heavily into the success equation for corporate events. If a venue has invested in its technology, it's a good indicator that other standards are of equally high levels. When choosing a venue, look for an up-to-date audiovisual equipment, teleconferencing tools and fast wi-fi as good indicators of overall quality.
2. Offers Transparent Pricing
Top venues make pricing clear for customers. This way, customers are not left with any surprises after the event is over. From facility rental to technology to food and beverage, every event has different needs.
The key to transparent pricing is working with a professional event planner. Professional event planners work on events all day, every day —  not just once in a while. They know what works and what doesn't in their space. They know itemized costs for linens, technology, floral, food & beverage, and entertainment options like the back of their hands. They have trusted, proven outside vendors they can recommend for additional requirements. Event pros can focus in on your must-haves, finding solutions that successfully fit within your budget, while delivering the experience you are seeking.
Avoid hosting large, complex events in locations that don't have a dedicated event manager. To avoid unexpected charges and hiccups, you want a professional event planner to handle your needs —  not someone who also bartends, mans the register or answers the phones.
3. Innovates and Inspires
To stand out from other event venues nearby, the best places will not just follow your directions, but proactively offer innovative and inspirational ideas. Look for event planners that are interactive and engaging and contribute ideas and suggestions to your concept.
Leading event planners make an effort to stay updated on best practices in the corporate event industry. Whether that's developing sustainable policies, attending professional development courses or implementing ongoing education, this proactive approach helps staff to discover trends and better anticipate customer needs to create an event that wows guests.
Find Corporate Event Venues in NJ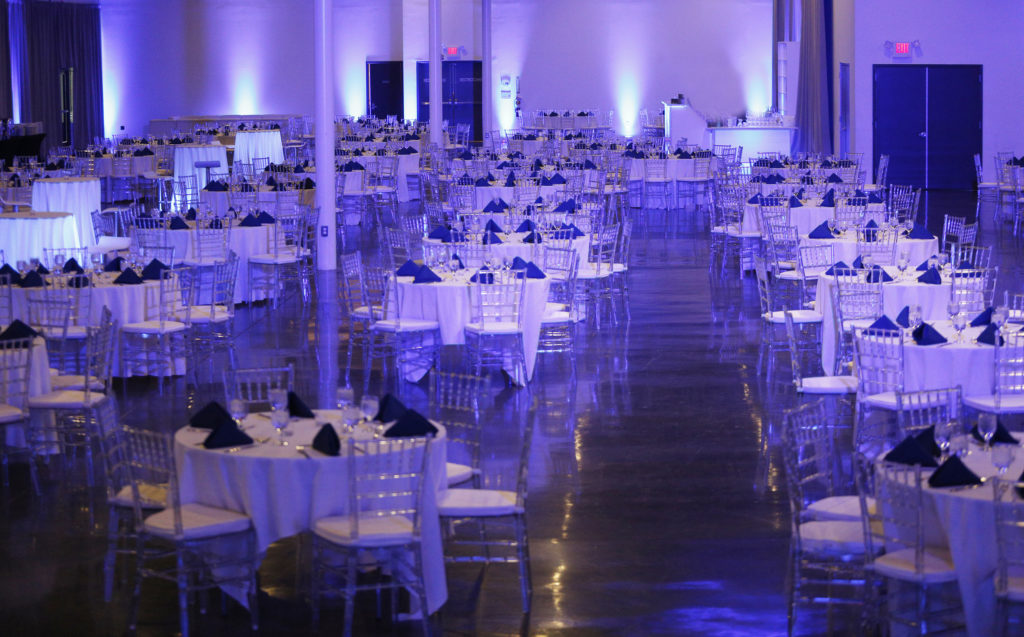 When it comes to nearby corporate event venues in New Jersey, you have plenty of options. If you're looking for high standards, transparent pricing and innovation, look no further! The Event Center at iPlay America is the perfect spot for your next corporate event with spaces that range from our intimate V.I.P. Suites, designed to host a small meeting or cocktail hour, to the 20,000 square foot Warehouse 100 with enough space to sit over 1,000 banquet style.
We'll help you set the tone for a formal event in one of our multi-purpose party rooms or enjoy the relaxed atmosphere of renting out a Topgolf Swing Suite Bay. Whether you're an educator, CEO or club president, we have the perfect meeting room for you. Corporate training sessions, team building, trade shows and holiday parties can be accommodated as well.
Are you planning a corporate event?
Let us help you take your next event from ordinary to extraordinary.
Speak with one of our Professional Event Planners to help you make the experience of planning your event easier than ever. Stop in for a visit, we're located at 110 Schanck Rd, Freehold, NJ in Monmouth County or call 732-577-8200 ext. 383 to